Host on Demand (HOD)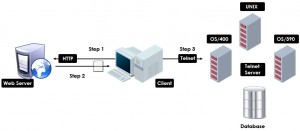 Rational Host On-Demand provides cost-effective, secure, browser-based, and non-browser-based host access in intranet and Internet environments.
Installed on a web server, it simplifies administrative management, deployment and allows users to download the Rational Host On-Demand applet to their browsers for connectivity to critical host applications and data.
Host On-Demand leverages Java™ technology that provides security-rich Web-browser access to host applications on the web with no programming required. The web interface has the same look and feel across various types of operating environments.
With support for File Transfer Protocol (FTP), TN3270E, TN5250, VT100, VT220, VT420, Secure Shell (SSH), and IBM CICS® Transaction Gateway access, you have a single interface to key host data.
Royal Cyber will provide a Subject Matter Expert (SME) to perform the following activities:
Assist with the installation and configuration of Rational Host On-Demand.
Assist with the migration of the Host On-Demand configuration from the current version to latest version.
Help the configuration settings to be utilized for HOD.
Assist with testing and problem resolution encountered in the migration of HOD.
To provide knowledge transfer on the migration and configuration.
How you'll benefit
Easily create new business applications using Host Access Beans for Java, Host On-Demand Connector, JavaScript API, and reusable components
Providing multiple security options for access across Internet
Supporting host access to System z® and System i® models
Providing FTP and VT access to all supported servers