System Z Development Lifecycle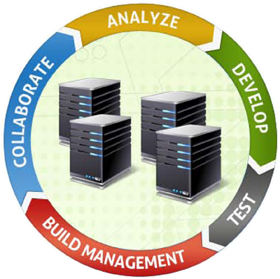 Accelerate Main frame development with Eclipse-based multiplatform development environment that empower developers with a modern graphic user interface.
The single integrated development environment (IDE) provides a common view of tiered applications that support multiple platforms, languages and technologies. This IDE is also well integrated with our collaborative application lifecycle management tools, allowing teams which are working on different parts of an overall solution to coordinate their application development requirements, tasks, builds, and tests for even greater productivity.
IBM RATIONAL ASSET ANALYZER
DISCOVER, UNDERSTAND, DOCUMENT
IBM RATIONAL DEVELOPER FOR ZENTERPRIZE
MODERNIZE, MAINTAIN, EXTEND
IBM RATIONAL DEVELOPER FOR SYSTEM Z UNIT TEST
DEPLOY, DEBUG, TEST
IBM RATIONAL BUILD FORGE
BUILD MANAGEMENT
IBM RATIONAL TEAM CONCERT
AUTOMATE, MANAGE, REPORT
Web Services
Eclipse-based IDE speeding modern composite (SOA) application development
Links WAS and core system z processing
Supports common IDE for COBOL, PL/I, C, C++, HLASM, Java, EGL and web services
Transforms UML to COBOL source code
Provides interactive access to z/OS for development, debug, job generation, submission, monitoring, command execution
Supports new and existing runtimes (CICS, IMS, Batch, USS, DB2 SP, WAS)
Enables CICS and IMS applications for web services and SOA
Supports for J2EE, JCA, XML, web services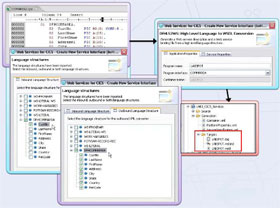 How you'll benefit
Lowers development and maintenance costs
Increase developer productivity, quality and faster time to market.
Attract new talent quickly, reduce training time and costs.
Free up more system capacity for production workloads usage.