IBM Power Systems
Power Systems help software development teams build software by simplifying code development, creation and maintenance of port applications through rich integrated development environment when used in combination with IBM Power Systems compilers and Rational Team Concert.
Power Systems make software development easy by leveraging rich family tools to deploy and maintain a single development workbench  including remote (IBM i, AIX, or Linux) file management, searching, editing, refactoring, application analysis, building, and debugging for a wide range of programming languages including Java, Java EE, C/C++, RPG, and COBOL.
With capabilities from design to done such as visual construction, drag & drop development, instant production simulation, testing and automated quality checks, Power Systems help software teams to simplify and reduce operating expenses.
Increase your organizational efficiency and productivity by switching from traditional text-based, command-line development tools to rich integrated development environment.
Software development is always very critical and Royal Cybers ensure that your applications get the best performance on Power Systems for smarter software delivery.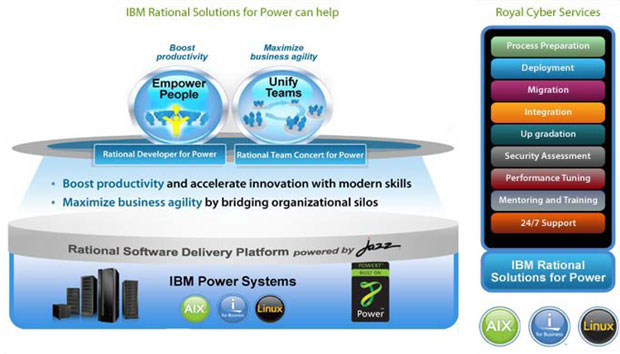 Rational Developer for Power
Common developer desktop across operating systems and languages
One integrated family of development tools (C/C++, Java, RPG, Cobol)
Support for multiplatform development (RAD, JAVA Script, RBD, EGL Rich UI)
Attract new talent to work for power system development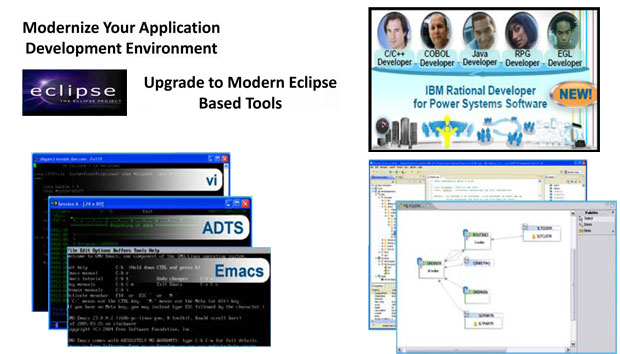 Rational Team Concert for Power
Change and Configuration Management on Power System through Modern GUI based tool
Collaborative Application Lifecycle Management
More Automated , Transparent and Predictive Software Development
Cross Project Dashboards
Real Time Project Health Information through Web Access
Integration with other Rational Software through Jazz Platform
How you'll benefit
Simplifies and accelerates code development and maintenance.
Makes it easier to understand, read, and write source code
Makes it easier to switch between tasks.
Improves programmer productivity and efficiency of the development organization
Rational Team Concert for Power Systems