Rational Team Concert for System Z (RTCz)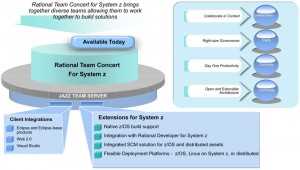 Rational developer for System z consists of a suite of tools for developers that helps them deploy multiplatform applications faster, efficiently and less costly.
Royal Cyber offers complete solution for System z applications including applications development with EGL, Java and zEnterprise to providing its consultancy, training and support.
IBM Rational developer for System z speeds-up the development of Mainframe applications, including traditional COBOL, PL/I, C/C++, and Assembler applications, Java, Java Enterprise Edition, Web Services, Web 2.0 applications, Java Batch application in Compute Grid and XML-based interfaces linking to the Web.
Developer for System z offers integrated development environments (IDE) with advanced, easy-to-use tools and features to help WebSphere®, CICS®, IMS™, Batch, WAS, and DB2® developers to rapidly design, code, and deploy complex applications which allows developers to maintain high level of individual productivity, while unifying development processes and tools to minimize the amount of regression testing needed post-migration.
Our Royal Cybers are experts in developing System z applications for corporate and can also train people use this enterprise modernization tool.
How you'll benefit
Eliminate cost differentials between distributed and existing mainframe-development
Create applications without impacting shared mainframe processes
Provides a z/OS test environment to a wider array of mainframe developers
Free up mainframe development MIPS for production capacity